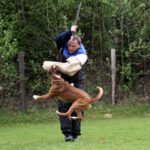 My family has a very old history in the dog world. Grandfather is working with hunting and sports dogs more then 70 years.
1988 I started my journey in a working turniers (SchH) with my German Shepherd female. With this female I started with my own breeding 1991 and 1993 born my Kennel name ZLATOLICNA.
All my dogs have SchH, IPO and IGP exams and two females have FH to! In this 33 years I have more then 40 Champions all over the World. My breed dogs have titul of  International Ch, World Champion and Euro Champions. Many years I be members of breeding comision for Boxer and German Shepherd, president of Rottweiler and Dobermann breeding comision and vice president of Boxer Club Slovenia. Now Im in working comision of Boxer Club Serbia!
From 1988 I have working licence for helper and IGP instructor. Many time I be a helper in Körung for German Shepherd and ZTP for Boxer and Dobermann.
My judging way start 1995 and now Im International judge for FCI 1,2,3,5,6,7,8,9,10 groups, specialist judge for Boxer, German Shepherd, Dobermann and Rottweiler. International and Atibox judge for IGP, FH and Obedience!.
I judging in many beautiful countries like Latvia, Indonesia, Filipini, India, Austria, Hungary, Slovenia, Serbia, Croatia, Bosnia, Bulgaria, Denmark, Rusia, Monte Negro, Czech Republic, Italy, Poland…..!
It was be my pleasure to judging in your wonderful country on this great ATIBOX VM 2023!
Thank you for your kindly invite.
Dusan Travnikar